Cary Morin's Latest Album will begin releasing in October 2023!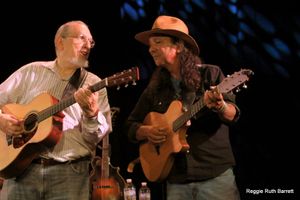 Here's what folks are saying about Cary's Music:
"...what is amazing to me is Cary's incredible natural talent. I studied classical guitar for many years and its focus on finger style but am just astounded by the style and execution Cary brings into his music. And on top of that, that great voice and heartfelt lyric presentation."  -D. Ussery, Fort Collins, CO, October 2020

"Cary Morin is a unique and brilliant guitar player, songwriter and singer," says renowned folk musician David Bromberg, extolling the virtues of one of his favorite players. "It's hard to pick out what he does best. As a guitar player, I have huge respect for Cary's style and technique on the guitar. If you haven't heard him yet, you should. Try to remember that it's only one guitar." Hearing the ease with which he fingerpicks on his latest album, Cradle to the Grave, it's hard to believe that he's only been playing solo for about seven years — and, as Bromberg says, that it's all just one person..." - Dan Forte for Taylor Wood & Steel Magazine, June 2018
"...A superb fingerstyle guitarist, Morin is a troubadour of the first order...The guitar playing on this album is elegant, and simple in it's beauty. And while what he is doing might be complex, he seems to toss it off effortlessly, as if anyone could play this well..." - Joe McSpadden, No Depression
"He's a fantastic fingerstyle guitarist— nimble, yet very soulful. Even when he does show off his skills, as in the ragtime-like blues "Laid Back," he does so without overplaying. The sentiment expressed in the song always reigns...A delight from start to finish, keeps the blues alive."  -Tom Clarke, Tahoe OnStage, February 2017

"...Cary Morin has tapped directly into the roots of country blues. With his impeccable finger picking and occasional steel guitar playing and crusty, expressive vocals and song writing, Morin has developed a style that stands apart as true "Native Americana."  Morin's deft blues picking and raw singing are reminiscent of Corey Harris's early recordings. - Bill Wilcox, Twangville
Cary Morin with David Bromberg Quintet


Cary has been described as acoustic Native Americana Fingerstyle Blues; with strong qualities of jam, reggae, jazz, blues, bluegrass and dance.  Tim Duffy, president of Music maker Relief Foundation, describes Morin as a "brilliant guitarist, heartfelt songwriter and soulful singer whose music gives us pause to reflect on life's great rewards." 
Cary Morin brings together the great musical traditions of American and beyond like no other, from the rocking, electrified world groove of The Atoll, to the pared-down acoustic blues of Sing It Louder and Streamline, which showcases Morin's deft fingerstyle guitar.
 
Cary;s 2017 release, Cradle to the Grave, won The 2017 Indigenous Music Award for Best Blues CD & 2017 Independent Music Award for Best Blues CD.